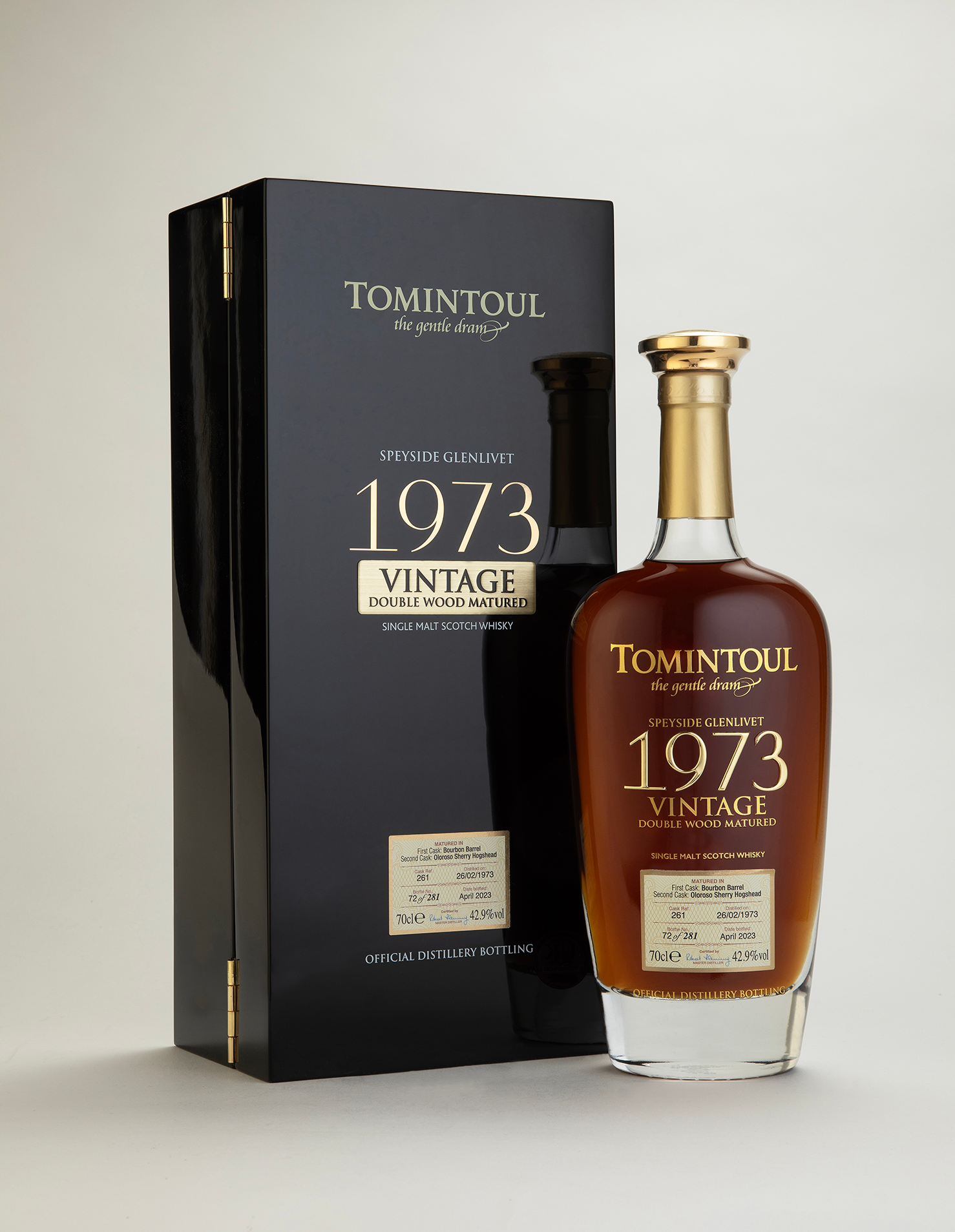 Tomintoul Single Malt Scotch Whisky has announced the limited release of a rare 50-year-old single cask, double wood matured Vintage expression.
Following the esteemed Tomintoul 1973 bottling launched in 2018, Tomintoul Distillery has now released a limited edition single cask from the same year; Tomintoul Vintage 1973, Cask No. 261.
Distilled in February 1973, the rare single malt was initially matured for 33 years in American oak ex-bourbon barrels in Tomintoul's Cairngorms warehouse. Before being filled into a single Oloroso Sherry hogshead cask, hand-selected by Master Distiller Robert Fleming, for a further 17 years maturation and bottled shortly after reaching 50 years old in April 2023.
Tomintoul Vintage 1973 Cask No. 261 has been bottled at natural colour and at a cask strength of 42.9% ABV.
Located in the heart of the Cairngorms National Park on the outskirts of Tomintoul, the highest village in the Highlands of Scotland, Tomintoul Distillery is known for its exceptionally smooth, complex and well-balanced handcrafted whisky. It attributes this to the remarkable natural environment - from the fresh mountain air of the Cairngorms National Park to the soft, pure water from the Ballantruan spring.
Fourth generation Speyside distiller, Robert Fleming, who personally selected the casks for this exceptional double wood matured Tomintoul expression, said: "At Tomintoul, we're one of just a few single malt Scotch whiskies still lovingly produced by hand. Using traditional techniques that stretch back hundreds of years, we take great pride in our whisky and appreciate the flavour and complexity that develops from time spent in the cask.
"We were able to let this cask of Tomintoul Vintage 1973 rest in its second stage of maturation in a handpicked Oloroso Sherry hogshead cask until it reached 50 years.
"The result is a remarkably rich and opulent single malt. Layers of crème caramel, roast pecans and fruitcake combine with a gentle hint of tobacco, treacle and liquorice. The long-lasting finish is punctuated with notes of dark chocolate ganache fading into stem ginger and delicate spices."
With only 281 bottles available, the limited release of the Tomintoul Vintage 1973 Cask No. 261 is now available to collectors globally with limited availability in select independent and specialist retailers.